The Valley
Sansepolcro
Arriving in Sansepolcro from the north or from the south, the bell-towers of the Badia, the current Cathedral, and the Church of Saint Francis, welcome the visitor, who in an instant can make an imaginary journey into the architecture designed and painted by Piero della Francesca in his work.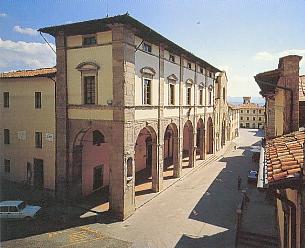 The little city of Sansepolcro, which grew up around the large Benedictine abbey, has preserved its medieval cityscape nearly unchanged and over the centuries has been enriched by valuable Renaissance and Baroque buildings.
An item of significant interest in the Cathedral is the "Volto Santo," a wooden crucifix of the Carolingian era. Next to the Cathedral is the mannerist Palazzo delle Laudi, today the Municipal capital.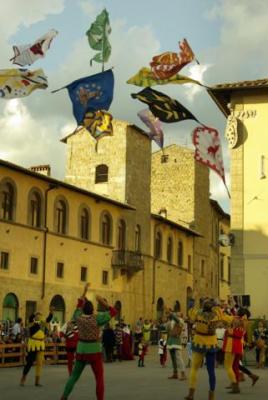 The city of Sansepolcro, in addition to being remembered as the birthplace of Piero della Francesca and other illustrious intellectuals such as Luca Pacioli, is also renowned for its great historic and artistic heritage found in the churches and in the palazzos of the historic center.
The heart of the city is Piazza Torre di Berta.  On the second Sunday of September, it is the site of the traditional Palio della Balestra (Saracen joust) with costumes inspired by the paintings of Piero della Francesca.
Also in the month of September, every two years, Sansepolcro becomes the city of lace with exhibitors and artists from all over Italy and from abroad.
Just steps from the Civic Museum, across from the garden of Piero della Francesca, is the Museo delle Erbe e Piante Officinali (Museum of Herbs and Medicinal Plants).
Surrounding areas

Anghiari

Monterchi

Pieve Santo Stefano

Caprese Michelangelo

Percorsi consigliati

Walk in the footsteps of the Saints: a mystical journey to La Verna, Montecasale, Cerbaiolo and Assisi.

Discover the Greats of the Renaissance: from Piero della Francesca to Franco Alessandrini, visiting cities like Sansepolcro, Anghiari, Monterchi, Caprese Michelangelo, Arezzo, Città di Castello, Perugia and Spello.

Cities With Contemporary Art: Città di Castello (The Burri Museums), Arezzo, Sansepolcro and Perugia.

The Great Renaissance Families and their Palaces: Anghiari, Sansepolcro, Arezzo, Città di Castello, Montone, Perugia and Cortona.

Ancient Stones - An Archealogical Itinerary: from the Etruscans to the Romans, visit sites in Arezzo, Cortona, Anghiari, Gubbio and Gualdo Tadino.

A Naturalist's Itinerary - the Great Appenine Excursions: from Lake Montedoglio to Sasso di Simone.

Arts and flavors: a tour for every taste: Sansepolcro, Anghiari, Caprese Michelangelo.
Exploring
By motorcycle: …. the route of the "Muraglione," "Mandrioli," "Valico di Via Maggio,"  "Bocca Serriola"…. "Bocca Trabaria," "Calla," or the Carnaio, ……… these names are well-known  to motorcyclists.
From the mountain passes, to the green rolling hills of Umbro Toscane, to the woods of the Casentinesi forest, this is the most varied landscape a motorcyclist may wish to see.
Rest stops along the route in little medieval villages, where time seems to stand still, make indelible memories for fans of two-wheelers.

Mountain Biking and Horseback Riding may be planned with various organizations in the area.
Fishing in Montedoglio Lake and in the various smaller lakes.