Benvenuti  Welcome 

Willkommen

 

Bienvenue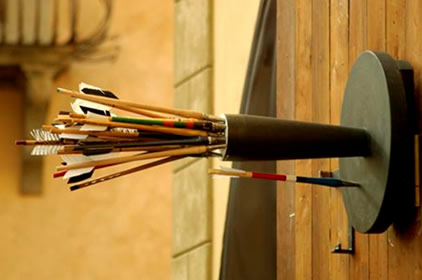 PALIO DELLA BALESTRA
8 September 2013
Since 1951, on the second Sunday of September, Sansepolcro's  piazza Torre di Berta, surrounded by Renaissance palazzos, hosts a reenactment of the historic dispute of the Palio between jousters from Sansepolcro and Gubbio. According to the ancient custom, the morning begins with the herald reading the announcement of the challenge between the rival Eugubini.
In the afternoon, after the blessing of the weapons, the jousters of the two cities enter the Piazza, announced by drum rolls and the sound of horns, while the color guard waves flags bearing the colors of the ancient quarters.
As the marksmen of the two cities take turns on the shooting platforms in their Renaissance costumes, the silence broken only by the dry impact of the arrows piercing the targets, the piazza relives the magic of the ancient jousts.